Seasonal Gifts | New Auto-Ship | Coffee | Homemade Biscotti | Cookies ,Candy & Fudge | Tea-Sugar Cubes & Tea Ware | Gifts | Cocoa & Cappuccino | Mixes, Brownies, Spreads & More | Tea Boutique Collection | Organic Tea & Tea Infusers | Tea Boutique Bath Shoppe | Soups & Bread Mixes | Beanies,Buddies, & Attic Bears | Webrings | | Contact Us | Shipping Info | Flower Shop | Link Partners | Coffee Recipes | Monthly Prize| Tropical Bath&Body Shoppe |Clearance Items | Home
"Gift Giving Ideas "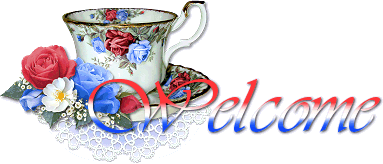 HERE YOU WILL FIND MANY IDEAS
FOR YOUR GIFT GIVING NEEDS!

---

For Coffee Lovers!
Here are a few of my favorite flavors you will be sure to enjoy yourself! Let us create a Gift Basket filled with goodies for any occasion! 12 oz. Bags
Gift Baskets available for purchase below.
Check out more Coffee choices on the Coffee page.

Select:
---

Beanie Baby Club Travel Mug!
Here is a great gift for any beanie baby collector. This Kit has "Bits" the Beanie Bear in a Travel Mug and includes a Paper Mug insert, Sticker Sheets, and Double Sided Markers to decorate the Mug. Limited amount Available. $15.00 each
---
I Love Japan Beanie Bear

This is a brand New International Bear only available in Japan. Very cute! Add this one to your collection of "I Love" Bears today! $22 each

Limited availability!
---
Herb Tea Cups
With Infuser Sets
These Tea Cups are made of porcelain and are available in Fruit Tea design and Lemon Tea design.
Patterns are bright and cheery. Functional 3 pc. sets include cup, lid, and stainless infuser.
They look great on display in a collection. Made in Germany.
Cups brew 8.45 fl.oz. $12.95 each

SPECIAL OFFER! Get 1 oz. of our loose tea Free with the purchase of any Tea Cup with infuser set.
---
Marble Biscotti
A two tone biscotti: Chocolate biscotti with coffee, mini M&M's, and slivered almonds marbled with a vanilla biscotti loaded with mini M&M's and slivered almonds. Simply sinful!! $1.65 each. $16.00 a Dozen. $18.00 a dozen with icing. Your choice of icing in Chocolate or Vanilla
Select:
Select Icing: Chocolate Vanilla
Quantity:

For more cookie flavors click here
---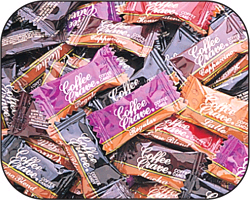 Coffee Crave Candies
You don't have to have a mug to have your coffee. These wonderful hard candies make it easy to take your passion with you. The 4 oz bag comes in "Assorted Flavors" for $2.50 each! Ask For A Free Sample of Coffee Crave Candy With Any Order!! Flavors include Latte, House Blend, Mocha, Cappuccino and Regular. $2.50 each.

---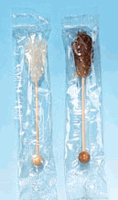 Swizzle-Sugar Sticks
Demitasse Sugar Swizzle Sticks Rock Candy for Sweetening. Coffee & Tea. Great in Gift Baskets or on your table when entertaining friends and family. nbsp; Use to add sweetener to your favorite drink. Individually Wrapped. Available in White or Amber Sugar. 3 pc. package for $2.50 or 10 pc. package for $7.50. **Larger quantities available.

---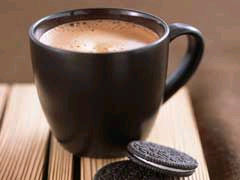 Azteca D'ORO Mexican Spiced Cocoa
Xocolatl was the name of the ceremonial drink the Aztecs of Mexico served the Spaniards upon arrival in 1519, now referred to as chocolate. Today, Mocafe' has recreated this drink using original recipes to produce "Azteca d'Oro" Mexican Spiced Cocoa. Laced with fragrant spices such as cocoa liquor, real vanilla, almond, and cinnamon, Azteca d'Oro is the most flavorful cocoa found anywhere. Available in a 14oz canister $8.50 ea. ON SALE SAVE $1! and Single serving packets $1.35 each.
---

NEW! Homemade Goat's Milk Fudge
"Walnut Mountain Goats Milk Fudge" Homemade goodness "made to order" so you get the freshest fudge ever! You will love our new fudge. Instead of your ordinary fudge, this is made with goats milk for a richer fudge you will be sure to enjoy. Not a mix - just fresh to your doorstep! Makes a great gift idea! Order some today! Your family and friends will love this fudge! Available in 8 oz. containers. $7.50 each
Flavors: Butterscotch - Dark Chocolate - Milk Chocolate - Dark Chocolate w/walnuts - Milk Chocolate w/walnuts - Peanut Butter - Peanut Butter w/Dark Chocolate Swirl - White Chocolate - White Chocolate w/walnuts & White Chocolate/Dark Chocolate w/Maraschino Cherries - one is as good as the next!
---
Moravian Sugar Cookies
Known as the world's thinnest cookies our little 1.5 oz tubes of cookies fit wonderfully in baskets. Twenty-five thin, crunchy and tasty cookies to a tube. I bet you can't eat just one! $3.75 each - Available in your choice of Spice or Sugar.
---

"NEW" Tea Jams and Jellies!
Introducing! Marmalady's Tea Jams and Jellies. Made to our specifications with only the finest ingredients.
The results are delicious. $5.00 each
All homemade ingredients! Try some with your favorite cup of tea.
Make one your favorite today!
---
Cheeseball/Cheesecake Mix
Just add 8 ounces of cream cheese for a great cheeseball to serve with crackers, use as a bagel spread or add 2 cups of whipped cream and place in a graham cracker crust for a luscious cheesecake. $4.50 each
Available in:
Tomato Pesto Cheeseball mix
Strawberry Cream Cheeseball mix
Garlic Herb Cheeseball mix
White Chocolate Amaretto Cheesecake
---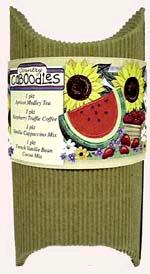 COUNTRY CABOODLES: WATERMELON ( Single )
Our kraft Caboodle gift box with a watermelon band, sunflower background and fruit arrangement is perfect for baskets, teachers and even Valentines day. Contains:
1 - Apricot Medley tea
1 - Raspberry Truffle Coffee
1 - Vanilla Cappuccino Mix
1 - French Vanilla Bean Cocoa Mix
Price: $8.50
---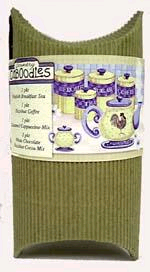 COUNTRY CABOODLES: COFFEE POT ( Single )
Our kraft Caboodle gift box with a pale blue & white band adorned with a coffee pot and a rooster motif is perfect for baskets, teachers and even Valentines day. Contains:
1 - English Breakfast Tea
1 - Hazelnut Coffee
1 - Caramel Cappuccino Mix
1 - White Chocolate Hazelnut Cocoa Mix
Price: $8.50
---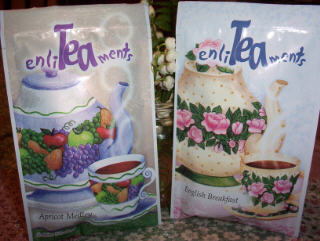 EnlighTEAments
The ultimate little gift. Great for hostess gifts, thank you, I care about you! Perfect in gift baskets. Each colorful packet contains 5 tea bags. $1.25 each
Available Flavors: Apricot Medley, English Breakfast .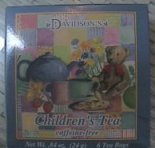 Childrens Tea
You'll be delighted by this tea, even if you're not a child. It brews rosy-pink in the cup and bursts with a fresh berry-punch flavor. Available in sample boxes of 6 tea bags for $2 each
Throw a Tea Party with your kids today!
Gift Mugs & Baskets
DROP SHIP ONE OF OUR GIFT SETS TODAY!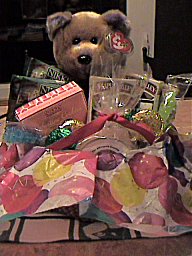 Gift Baskets
Looking for a Gift Basket for someone special? We can provide you with any kind of Gift Basket that includes Coffee, Tea, Combo of both. Anytime is a good time to give a personalized Gift Basket and we ship it all for you along with a Gift Card at no additional charge!
Gift Baskets

Select Gift :
Select Contents
Personalized Gift Card Text:
---
Order one of our Logo Gift Mugs today!
BUY 2 - 12 oz. BAGS OF COFFEE, GET THIS MUG FREE!

Gift Mugs are available with cello bags. They are filled with an assortment of Coffee, Tea, and Cookie fillings. Mugs are Logo style or holiday depending on time of year.
Priced: $10.00

Gift Mugs
Select:



Price: $10.00 Quantity:
---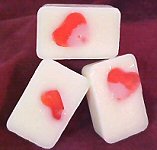 Cherry Heart Soap
"NEW" Silk & Shea Butter Soap All natural soaps only made in small batches with the finest and purest ingredients. No alcohol or drying agents only pure, creamy, moisturizing ingredients. We offer a variety of scents including unscented soap and we frequently add new scents so make sure to check back often! This creamy soap has a great lather and is especially moisturizing! For all skin types and for people with sensitive skin. Available in 6.5 oz. bars. $5.50 each

Price: $5.50 Quantity:
---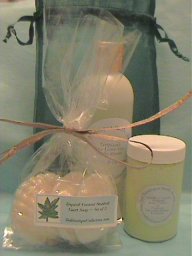 Tropical Bath Gift Bag **New**
3 pc.Tropical Bath Product Gift Bag
Our lovely gift bag has 3 of our products that include a Body lotion, your choice of Shampoo, Bath Wash or Bubble Bath, and a Tropical Coconut Bath Soap or set of Tropical Bath Soaps. All for $15. Fill in below your preference and we will take care of the rest. A great gift idea to send to a friend or family member.
3 pc.Tropical Bath Product Gift Bag
Price $15.00
Please inlclude your choices in the text box below.


Quantity
See more of our bath products, click here
---