Cappuccino, Cocoa & Apple Cider
CAFFE MOCHAS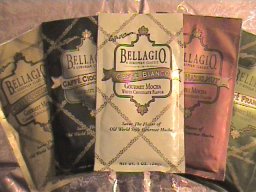 Mmmmm Caffe Mocha! For the Coffee Lover! Rich and flavorful our Mochas are sure to delight you! Combines only the finest roasted 100% Arabica coffee with our sweet, rich Chocolate. Prepare the same delicious Mocha beverages (100% non-dairy) enjoyed in coffee houses in the comfort of your own home with 5 unique flavors: Caffe Cioccolato/ Dark Chocolate, Caffe' Francaise/French Vanilla, Caffe' Hazelnut, Caffe'Bianco/White Chocolate, Caffe Caramella/Caramel Available in single serving packets. $1.35 each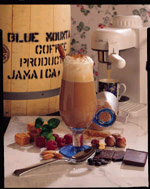 Instant Cappuccino Mix
Enjoy the taste of Italy all year. Our Instant Cappuccino is delicious served hot or iced. Each packet is easy to prepare and is available in five flavors.
Caramelicious, English Toffee, French Vanilla Creme, Snickerdoodle™ and White Chocolate Macadamia Nut .
$1.25 each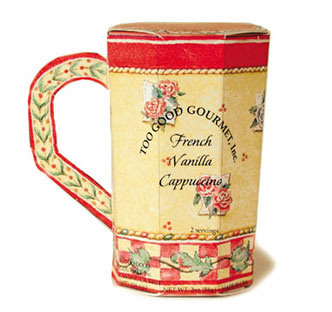 Too Good Cappuccinos Gift Boxes
2 Servings of frothy cappuccino mix in adorable mug-shaped boxes. $2.75 each.
Choose from Mocha Cappuccino, French Vanilla Cappuccino, and Snickerdoodle Cappuccino Mix.

COCOA AMORE Hot Cocoa Mix
Cocoa Amore was picked as the richest and creamiest cocoa by an independent panel of judges over other brand name cocoas. Cocoa Amore has also won numerous Best Beverage contests, competing not only with other cocoas, but with a variety of gourmet beverages. Today, Cocoa Amore enjoys continued success as the original gourmet cocoa and a recognized brand that consumers eagerly seek out at retailers all over the world.
Cocoa Amore offers a rich and creamy cup, in a fraction of the time required for stovetop preparation. Cocoa Amore cocoa is also low in fat with an 8 oz. cup per serving, and coupled with its great taste, Cocoa Amore is truly the gourmet of instant cocoa mix.
Available in 9 mouth-watering flavors, all packed in elegant, colorful packages ideal for gift baskets.
Mix and match your favorite flavors. $1.25 per single-serve packet.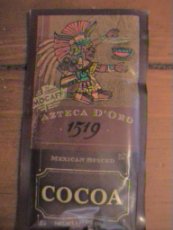 Azteca D'ORO Mexican Spiced Cocoa
Xocolatl was the name of the ceremonial drink the Aztecs of Mexico served the Spaniards upon arrival in 1519, now referred to as chocolate. Today, Mocafe' has recreated this drink using original recipes to produce "Azteca d'Oro" Mexican Spiced Cocoa. Laced with fragrant spices such as cocoa liquor, real vanilla, almond, and cinnamon, Azteca d'Oro is the most flavorful cocoa found anywhere. Available in a 14oz canister $8.50 ea. ON SALE Save $1 and Single serving packets $1.35 each.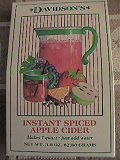 Instant Spiced Apple Cider
Combines flavorful real apples, cranberries, spices, and pure cane sugar for a truly refreshing taste experience. 3 oz. box - Makes 1 quart - just add water.
Beans and Bears
Seasonal Gifts | New Auto-Ship | Coffee | Homemade Biscotti | Cookies and Candy | Tea | Gifts | Cocoa & Cappuccino | Mixes, Brownies, Spreads & More | Tea Boutique Collection | Organic Tea & Tea Infusers | Tea Boutique Bath Shoppe | Soups & Bread Mixes | Beanies,Buddies, & Attic Bears | Webrings | | Contact Us | Shipping Info | Flower Shop | Link Partners | Coffee Recipes | Monthly Prize| Tropical B&B |Clearence Items | Home