Gift Ideas - Gift Boxed Items for Holidays and more!
Too Good Gourmet
Present Box of Cookies are filled with homemade cookies!
Only the best and freshest ingredients are found in these cookies. Available in 7 oz. Present Boxes. Try them and you will come back for more! They're absolutely addictive! Choose from White Chocolate Macadamia Nut in a Orange Box!
Chocolate Fudge Cookies in a Purple Box!
Lemon Tea Cookies in a Pink Gift Box!
What a perfect gift for that special teacher or friend! $7.00

NEW - Chocolate Covered Fortune Cookies!
Great new gift idea - Crunchy fortune cookies dipped in white or dark chocolate, sprinkled with colorful sugar flowers. Packaged in elegant, clear tubes. Available October 10th. $6.50

NEW For Christmas! Holiday Ornaments!
Great new gift idea - Adorable candy-filled ornaments for the holidays ~ Filled with 2 oz. of foil-wrapped chocolates. Choose from Holiday House, Snowman, Gingerbread Man, or Angel decorative boxes. Available October 10th. $3.50

Lighthouse Gift Box -- Almost as good as relaxing at the shore, the box is pretty without being too 'girly'. Packed with a coffee perfect pot, 2 cocoa mixes, and 2 cappuccino mixes. $7.50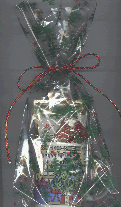 Cello Gift Mugs They are filled with an assortment of Coffee, Tea, and Cookie fillings. Mugs are Logo style or holiday depending on time of year. $10.00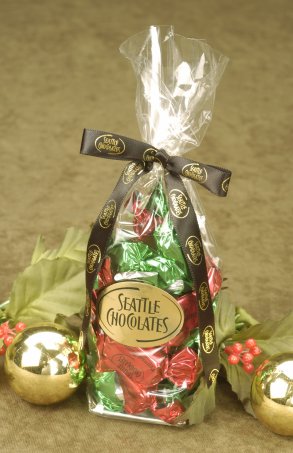 Christmas Gift Bag of Truffles This festive gift bag is filled with luscious peanut butter truffles wrapped in bright red foil and delicious cool mint truffles wrapped in holiday green foil. These lovely gift bags are sure to bring a smile to your friends and loved ones faces. Net Weight: 5-oz. $7.50 ea.
Beans and Bears
Seasonal Gifts | New Auto-Ship | Coffee | Homemade Biscotti | Cookies and Candy | Tea | Gifts | Cocoa & Cappuccino | Mixes, Brownies, Spreads & More | Tea Boutique Collection | Organic Tea & Tea Infusers | Tea Boutique Bath Shoppe | Soups & Bread Mixes | Beanies,Buddies, & Attic Bears | Webrings | | Contact Us | Shipping Info | Flower Shop | Link Partners | Coffee Recipes | Monthly Prize| Tropical B&B |Clearence Items | Home