Doesn't a hot bowl of gourmet soup sound good just about now?

Well we have some wonderful "New" Soup Mixes
that will just hit the spot on a cold winter day
or any kind of day!
If you live in the North you know
that a hot bowl of "easy to make soup"
makes that cold weather just a little
easier to deal with.
Please try one of our wonderful Soup mixes today!
Let us know what you think!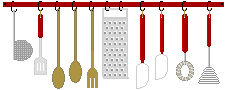 Gourmet Soup & Bread Mixes

Cheesy Broccoli Soup Mix
Stir soup mix into 5 cups milk (water can be substituted). Bring mixture to boiling, stirring constantly. Reduce heat and simmer partially covered, stirring occasionally for 5 minutes.
Yields 5 cups. $6.50
---
Tortilla Soup Mix "NEW"
Now Available! This is a great new soup that you combine 8 cups of water and (1) 15 oz. can of Tomato Sauce with the soup packet. Garnish with Sharp cheddar cheese and Tortilla chips. Optional: Add 10 oz. can of chopped chicken. Yields 8 cups. Try it today! $6.50
---
---
---
---
---
---
Chicken Noodle Soup mix
Serves eight. Just add water or optional 1 cup chopped chicken.
Price: $6.50
Quantity:
---
---
---
---
---
---
Beer Breads
These breads are quick and easy, all you add is 12 ounces of beer or pop, mix and bake! Use the classic add some marcheino cherries and some cherry pop. Instant cherry bread! The combinations abound! Available in Classic, Cheesy Roasted Garlic, Italian Herb
and Sun Dried Tomato.
---