Beans & Bears
Be sure to visit The Tea Boutique for an assortment of
Specialty Teas and Our specialty Blend only available here at
Beans and Bears.
| | | |
| --- | --- | --- |
| | Teas & More | |
To make the perfect cup of tea, start with a preheated pot or cup (simply fill your teapot or cup with very hot water and let it stand for a moment). Use fresh cold water (no chlorine please), and bring it just to boil. Don't let it boil too long! It will result in a flat-tasting cup of tea. Pour the water on the tea leaves or tea bag. Different teas require a different brewing time generally from 3-5 minutes. For green teas, your water should be a bit cooler, and only steep covered for 1-3 minutes. Steep it too long and it will be bitter.
And, of course, for a great cup of tea, you have to start with a great tea, because all the care in the world can't improve a poor quality tea. Luckily for you, we've made it easy! We searched far and wide, and have chosen only the best of the best. All our teas are crafted from the finest natural ingredients, fresh and flavorful, our teas are available by the bag so you can easily mix and match the perfect combination. We carry pre-boxed teas, Sampler boxes and loose teas. Try some today
---
True teas are made from the dried leaves of the Camellia sinensis, a cousin of the camellia flower that many of us are familiar with. Herbal teas contain no true tea leaves and are more accurately called tisanes or herbal infusions. Created from any number of herbs and spices, the botanical ingredients are combined to create exciting flavors and aromas in a rainbow of colors.
10 tea bags $3.20
Click here for flavor descriptions
| | |
| --- | --- |
| | Quantity |
| | |
| | Quantity |
| | |
| | Quantity |
| | |
---

Decaffeinated Tea
English Breakfast, Vanilla, Earl Grey, Cinnamon Apple, and Raspberry. Available in sample boxes of 6 tea bags for $2 each
---
Desert teas
Available in prepackaged 8 tea bag boxes Choose from Vanilla Cream Spice, Raspberry Cream Carmel, Lemon Ginger, Cherries Jubilee, Tangerine Almond, or Carmel Peach with Coconut.



---
Children's Tea
You'll be delighted by this tea, even if you're not a child. It brews rosy-pink in the cup and bursts with a fresh berry-punch flavor. Available in sample boxes of 6 tea bags for $2 each


Childrens Tea
---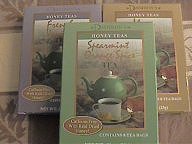 Tea & Honey Teas
These delicious teas contain real dried honey right in the tea bag. The honey dissolves instantly in the cup for a subtle sweetness. They're all herbal, caffeine-free, and only 18 calories per cup! $3.20 for 10 tea bags and also available in the prepackaged boxes of 8 tea bags per flavor for $2.60 each.
---
Exotica Teas
Master tea blenders have found these beautiful teas in the famed tea growing regions of China, India, and Sri Lanka. These exceptional teas are available in small quantities, like a wine maker with a limited production of a particular vintage. 10 tea bags $3.50
Exotica Tea Sampler $6.60

Quantity

2 teabags each of Assam Breakfast, Ceylon Estate Earl Grey, Champagne Oolong, China White, Dragonwell Green, Exotica Reserve Blend, Golden Darjeeling, Osmanthus, and Silver Jasmine.
---
Decorated Sugar Cubes

It's hard to find sugar cubes these days! Introducing our New "Decorated" Sugar cubes. Available in your choice of patterns Tea Party, Red Roses, and Pastel Flowers. We offer a 3 pc. size for $2.00 ea., a Sampler size containing 9 decorated cubes and 18 tinted cubes for $8.50 ea., and a Gift Box with 24 x 24 cubes for $15.50 ea.
---
Tea Canister
Want to keep those tea leaves fresh to the last cup? Our plastic canister with cliplock and spoon design looks great in any kitchen. Seals out both light and air, enemies of your tea leaves. The spoon measures 1 tablespoon and hangs on the side of the canister, handy for the next use. Holds up to 33.78 fl.oz of loose tea, depending on the type. $14.50
---
Glass Tea Pot
This Teapot is a 3 pc. set including lid and infuser. The see through design makes it nice to watch as your tea brews. 13.51 fl.oz. $22.00
Click here for a selection of Loose Teas in our Tea Boutique Collection
---
Tea Cup TEA FOR ONE
Glass tea cup + saucer & stainless strainer 4 pc. set.
Very modern style with see through design to watch your tea brew in the cup.
Lid used on top of infuser for brewing and as a holder for infuser. 11.82 fl.oz.
$23.50 each
---
Tea For One Set
This ceramic Tea For One 4 pc. Set is so cute for use anytime of the year.
Pattern is fun and looks great on display. Made in Germany.
Pot brews 12.84 fl.oz with cup size holding 8.45 fl.oz.
$19.50

Pattern available in Mugs, Salt & Pepper shakers, dessert plates.
Special Order Available. Email me for prices if interested.
---
Herb Tea Cups
With Infuser Sets
These Tea Cups are made of porcelain and are available in Fruit Tea design and Lemon Tea design.
Patterns are bright and cheery. Functional 3 pc. sets include cup, lid, and stainless infuser.
They look great on display in a collection. Made in Germany.
Cups brew 8.45 fl.oz. $12.95 each

SPECIAL OFFER! Get 1 oz. of our loose tea Free with the purchase of any Tea Cup with infuser set.
---
Herb Tea Cups
With Infuser Sets
These Tea Cups are made of porcelain and are available in a Sun design and a Moon design both with scattered little stars.
Pattern colors of blue, silver and white. Functional 3 pc. sets include cup, lid, and porcelain infuser.
Lid also functions as a plate for infuser. They look great on display in a collection. Made in Germany.
Cups brew 10.81 fl.oz. $15.95 each

SPECIAL OFFER! Get 1 oz. of our loose tea Free with the purchase of any Tea Cup with infuser set!
---
Tea Samplers
Having a hard time making up your mind? Try on of our new sampler boxes!
| | | |
| --- | --- | --- |
| Black Tea Sampler $3.80 | | Quantity |
| 2 teabags each of Darjeeling, Earl Grey, Cinnamon Apple, Orange Spice, and Wild Strawberry. | | |
| | | |
| --- | --- | --- |
| Herbal Tea Sampler $3.80 | | Quantity |
| 2 teabags each of Chamomile & Fruit, Peppermint & Spice, Cranberry Orange, Vanilla Cream Spice, and Lemon Ginger. | | |
---

Red, Green & White Tea Sampler $3.80
2 teabags each of Sun, Moon & Stars, Green Tea Garden, Jasmine Garden, South African Honeybush, White Peony.
Quantity


---
Decaf Tea Sampler
$3.80

Quantity

2 teabags each of Decaffeinated Earl Grey, Decaffeinated English Breakfast, Raspberry Cream Pecan, Cherries Jubilee, and Children's Tea.
---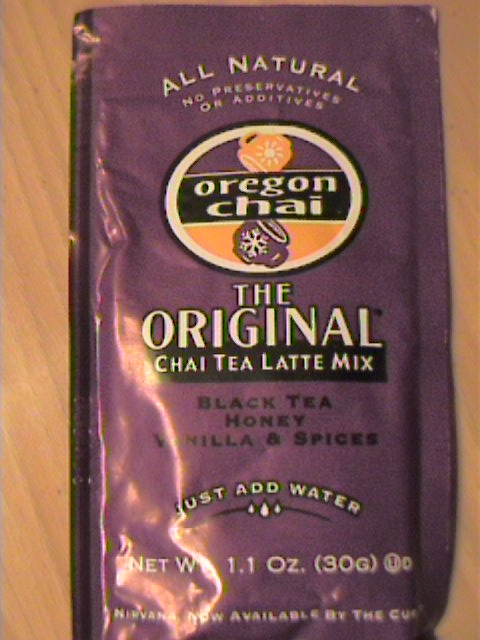 Oregon Chai
We now carry the original Chai Tea Latte Mix. Pure & natural, created for your instant gratification. Ingredients: Sugar, Dried whole milk, dried nonfat milk, dried honey, tapioca maltodextrin, natural flavors, dried back tea and salt. 1.1 oz packet makes a 16 oz cup. $1.50 each
Quantity
---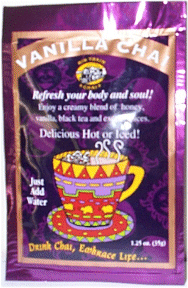 Love the exotic flavor and spices of Chai tea, but hate the fuss of getting it "just right?" We can say with confidence that BIG TRAIN CHAI mixes are the most outstanding Chai packets you can buy. Each packet makes a smooth, creamy mug, with no more effort than adding hot water. OR, try it iced!
AVAILABLE IN SIX VARIETIES:
Green Tea, Chocolate, Raspberry, Spiced, Vanilla and *NEW* Apple $1.85 per pack
One serving not enough? Spiced is available in a 10 serving size $11.25
---
Kids Chai
Great Fun for Kids! A milky, lightly spiced blend
of decaffeinated black teas with mini marshmallows and
a lower sugar percentage. Each packet makes one cup serving.
Makes a fun drink for your kids tea parties!
$1.50 each
---
T-Sak
And if you've hesitated to try loose teas because you don't want a muss or a fuss, hesitate no longer. Try our t-sac, a 'tea bag easy' way to brew a cup of quality loose leaf tea, without the mess and cleanup associated with tea balls or strainers. Made from chlorine-free, unbleached paper, it's as simple as spooning your tea into the bag and adding hot water -- no holder needed.
The t-sac is available in two sizes Small (for cups and mugs) 10/$.60, 100 box/$5.60 Large (for large cups and small pots) 10/$.75, 100 box/$6.50
| | |
| --- | --- |
| Small 100 countt | Quantity |
| | |
---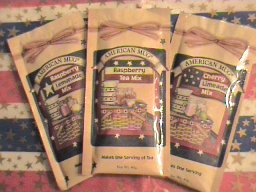 Icy Treats
Sometimes you're just not in the mood for something hot.
Why not treat yourself to the cool thrill of an iced delight?
Flavored Ice Tea or Lemonade - Perfect to stuff in your purse and add to a bottle of water on your way to the park or the pool this summer. Wonderful Americana packaging. Raspberry Lemonade, Cherry Limeade, Raspberry Tea and Peach Tea Mix $1.35 each
---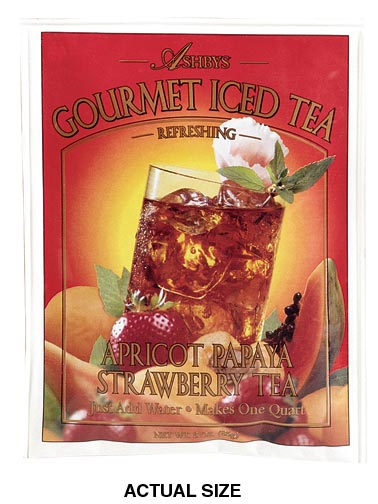 Ashby Quart Sized Iced Teas - Need a bigger glass of tea? You can enjoy these flavors by the quart, smooth and maybe a bit exotic. Choose from Apricot Papaya Stawberry, Cranapple Raspberry, Guava Peach, Lemon Key Lime, Mandarin Orange Green Tea, and Mango Pineapple Banana. $1.95 each
---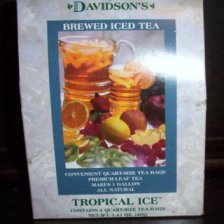 Brewed Iced Tea
Brewed Iced Tea.
Each giant tea bag makes a quart of sugar-free Iced Tea. Blended with the finest high-grown Ceylon teas, our brewed iced teas retain all of their flavor even when ice is added. All natual flavors are used in the flavored blends, and our Ceylon Ice will convince you that iced tea does not need to be the weak, characterless brew we so often encournter in restaurants! Each attractively packaged box contains 4 large tea bags, enough for 4 quarts or a full gallon of tea! Just $4.50 each

---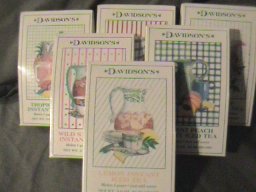 Flavored Instant Iced Tea Blends - These presweetened blends dissolve instantly in cold water. Perfect for catering, or in-store serving. Each package makes 1 quart. Flavors include: Wild Strawberry, Harvest Peach, Sweet Bing Cherry, Raspberry, and Tropical Fruit. $3.50 each. each
---

Herbal Honeystix
Infused with herbal extracts and fresh, pure royal jelly, these sticks add an herbal "boost" to the naturally soothing and healing properties of honey. Try Royal Jelly, Echinacea, Ginkgo Biloba, or Ginseng. $.35 each
---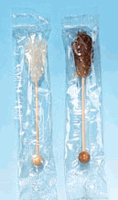 Swizzle-Sugar Sticks
Demitasse Sugar Swizzle Sticks Rock Candy for sweetening
Coffee & Tea.
Great in Gift Baskets or on your table when entertaining friends and family.
Use to add sweetener to your favorite drink. Individually Wrapped.
Available in White or Amber Sugar.
3 pc. package for $2.50 or 10 pc. package for $7.50.
**Larger quantities available.

---
Orange Spiced Cider

We have transformed farm-fresh apples into 4 of the most delicious and comforting flavors of hot cider. Available in individual serving size packets and 2# food service size bags. Each 1 oz packets makes an outstanding cup of delicious cider by just adding 8 oz of hot water. The food service bag makes 2 gallons or 32 servings.

Single serving packet $1.20 each
Two pound bag $18.95

Cranapple Cider ~ The crisp, sweet tart flavor of cranberries adds an enchanting zest to our wonderful apple cider
Cinnamon Spiced Cider ~ The perfect balance of warm and pleasantly spicy cinnamon and our apple cider is a cold weather favorite
Caramel Apple Cider ~ The creamy, toasty, buttery rich flavor of caramel and fresh, ripe apples create a mouth-watering treat.
Orange Spiced Cider ~ Succulent, sweet mandarin oranges with just a hint of cinnamon make an incredibly delicious cider.
| | |
| --- | --- |
| Single serving packet $1.20 each | Two pound bag $18.95 |
Gift and Collectibles Top 100
Vote For Us
Seasonal Gifts | New Auto-Ship | Coffee | Homemade Biscotti | Cookies and Candy | Tea & Tea Cups | Gifts | Cocoa & Cappuccino | Mixes, Brownies, Spreads & More | Tea Boutique Collection | Organic Tea & Tea Infusers | Tea Boutique Bath Shoppe | Soups & Bread Mixes Beanies,Buddies, & Attic Bears | Webrings | | Contact Us | Shipping Info | Flower Shop | Link Partners | Coffee Recipes | Monthly Prize | New Tropical B&B |Clearence Items | Home