Tea Boutique Collection & New Tea Soap | Organic Tea & Tea Infusers Tea Boutique Bath Shoppe | Potpourri |Bath Crystals & Bubble Bath Tropical B&B |Hand and Body lotions and creams | Soap | Sugar Scrubs |Lip Balm | Samples | Link Partners

Back to the Tropics Lobby
Your very own Tropical Vacation at home.
Think of being surrounded by beautiful white sandy beaches,
and the fragrance of the tropics in the air.
Tropical Creams and Lotions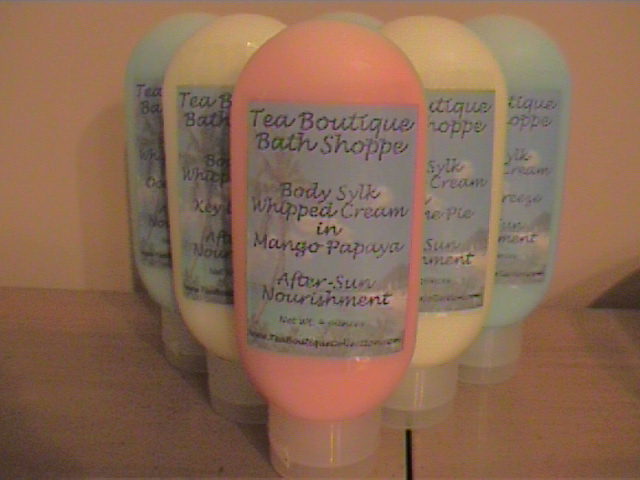 "New" Body Sylk After-Sun Whipped Cream - This cream is a satin/silk cream with lots of shea butter. A great after-sun tanning lotion, because of it's thickness and moisturizing properties. It absorbs quickly and nicely in the skin and replenishes lost moisture and keeps the skin radiant and shiny. It can also help keep a person's tan last longer! Available in 4 oz. tubes for easy application. Choose from Mango Papaya, Ocean Breeze, or Key Lime. $8.50 each.
Want to try a Sample? Visit our sample page.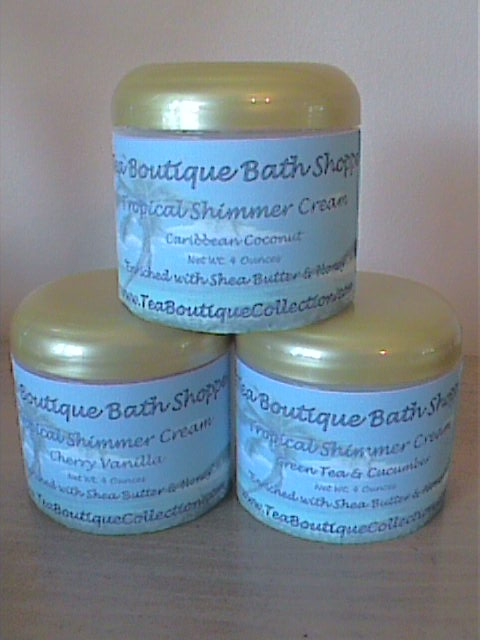 Tropical Shimmer Cream - This is a creamy lotion thick enough to be called a cream. We have added a shimmer ingred. to give a slight sparkle to your skin while moisturizing. Great used after being in the sun or anytime. Goats milk and Honey as well as Shea Butter and Aloe are part of what makes this cream special. This cream will leave a slight dew feeling to your skin before absorbing all the way. Available scents are Cherry Vanilla, Green Tea and Cucumber, and Tropical Coconut.
INTRODUCTORY PRICED - $5.00 for a 4 oz. Jar.
---
Rich & Creamy Body Lotion - a very hydrating lotion with just a little bit going a long way. Application leaves a lotion whiteness as it absorbs into the skin resulting in a moisturizing layer of protection that lasts as long as 24 hours. You will love the results. Available in Tropical Ocean Mist and Tropical Mango papaya. 4 oz. bottle - $6
Ingred: Sping Water and Aloe Vera used as a hydrating an soothing base added together with Calendula, Avocado, Vitamin E & Plant Glycerin. Calendula is especially soothing to delicate skin, Avocado promites Skin renewal, Vit. E has antioxidant properties, and Plant Glycerin is a natural humectant for the skin.
---
Smooth & Creamy Whipped Body Lotion - this lotion is very silky, like whipped cream but thicker. Same ingred. as the lotion except with added Goats Milk, and honey. We had to put it in a Jar for better application. This lotion is faster absorbing on the skin but with the same benefits of a moisturizing layer of protection lasting as long as 24 hours on your skin. Only available at this time in our "New" Tropical Key Lime Breeze. 4 oz. Jar $5.50
Beans and Bears
Seasonal Gifts | New Auto-Ship | Coffee | Homemade Biscotti | Cookies and Candy | Tea | Gifts | Cocoa & Cappuccino | Mixes, Brownies, Spreads & More | Tea Boutique Collection | Organic Tea & Tea Infusers | Tea Boutique Bath Shoppe | Soups & Bread Mixes | Beanies,Buddies, & Attic Bears | Webrings | Become a BBGG Consultant | Contact Us | Shipping Info | Flower Shop | Link Partners | Coffee Recipes | Monthly Prize| Clearence Items| Home