Try our homemade specialty biscotti cookies today! Each is individually packaged and sealed for freshness. These are made to order so you get the freshest tasting biscotti cookies. Chocolate or Vanilla Icing available on minimum Dozen quantities - "special orders only" add $2 per dozen
Biscotti Basics
The name biscotti means "twice baked." The dough is rolled into slabs and oven baked once. Then the slabs are sliced by hand in diagonal lines and baked a second time to make them firm and crunchy.
Did you know that it's one biscotto and two or more biscotti?

Biscotti were invented in Italy and though every region has its own variety, the area of Tuscany near Florence claims to be the birthplace of this time-honored tradition.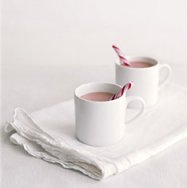 Try our Mexican cocoa with these yummy biscotti cookies!
Dark Chocolate Biscotti
Can't get enough chocolate? Perhaps this will satisfy your chocolate cravings! Chocolate biscotti made with Dutch process cocoa, chunks of semi sweet and milk chocolate, English walnuts, Kahlua, and coffee. Magnifico!!!

---

NEW Peanut Biscotti
Peanuts, peanut butter, and peanut butter chips with vanilla flavoring. A must for the peanut butter lover!

---

CRANBERRYNUT Biscotti
Another wonderful favorite for the holidays or anytime of year.
Whole dried cranberries, English walnuts, and orange flavoring. SUPERB!
They are loaded with nuts and dried cranberries----you won't be disappointed!!!

---

GINGERBREAD Biscotti
Such a popular flavor for the holidays that we just hope you will try this one. A taste of gingerbread without the house. This cookie is a must try during the holidays. Frosted with vanilla icing.(OUT OF STOCK - back next season - 2 dozen or more special orders only!)

---

MINT CHOCOLATE Biscotti
Created especially for the Mint lover! Combine chocolate biscotti with creme de menthe liquor, mint chocolate chips (including green mint Guittard chocolate). Frosted with milk chocolate and sprinkled with bits of peppermint candy.

---

---

---

---

---

---

---